Biography
Terre Roche was born in New york City in 1953 and spent her growing up years mainly in New Jersey. She began playing the guitar at age eleven when her older sister Maggie was given a guitar for Christmas and the whole family learned to play folksongs from Laura Weber on public TV. Maggie and Terre formed a singing group as teenagers and were discovered in the Village at The Bitter End Coffee House by Marilyn Lipsius, who ran the Coffee House Circuit, an agency which sent musical acts to perform at colleges around the country. Maggie, already a brilliant songwriter at the age of 19 had the balls to present herself to Paul Simon, who was her greatest artistic influence, in the lobby of a building where he was teaching a songwriting class at NYU. This was the beginning of a sort of apprenticeship in which Paul very generously allowed Maggie and Terre access to the observance of his own process, inviting them to the studio where he was making his second solo album.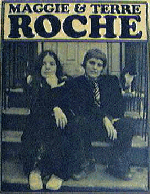 They performed on the college circuit for 2 years which, for Terre, meant leaving high school to go on the road. When the job ended they were in San Francisco which was recovering from it's summer of love. Though the teenagers were dubbed the "uptight East Coast chicks" by the crowd they fell in with there, a lingering taste for astrology, spirituality, health foods and other such West Coast preoccupations took hold and remains with them today. Eventually leaving San Francisco they hitchhiked to Louisiana with their friend Derek, who was accomplished in the martial arts. Terre has been attempting for 25 years to write about this experience but the best account of it still can be heard in Maggie's songs on their 1975 album, "Seductive Reasoning", which very poignantly chronicle their adventures.
In 1973, Maggie and Terre sang backup on "There Goes Rhymin' Simon", Paul Simon's second solo album. He eventually signed the group to a production company started to help up-and-coming performers, and he produced a track on "Seductive Reasoning". Intimidated by the high-powered agendas of the music business, the two retreated to Hammond, Louisiana, where they lived in a Kung Fu Temple, worked as waitresses, and sought to discover the key to a harmonious existence.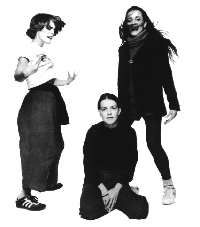 Returning to New York City in 1976, a move that some may interpret as forsaking the idea of a harmonious existence, Maggie and Terre joined up with their younger sister Suzzy and the three sang Christmas carols on street corners for fun during the holiday season. Wanting to continue the fun after the season had ended they decided to get together and work up arrangements of various songs, both originally composed and found. Eventually they found themselves onstage at Folk City, where Maggie and Terre worked as bartenders. People began to come to see them play and the appearance of crowds in turn attracted interest from record companies. They signed with Warner Bros. Records and in 1979 released their first album as a trio, "The Roches", which was proclaimed "Best Album of the Year" by The New York Times.


Though they have operated on the outskirts of the mainstream for many years, The Roches have been fortunate enough to enjoy longevity as performers, musicians and songwriters, making beautiful music with an unusual point of view. A favorite on the concert touring circuit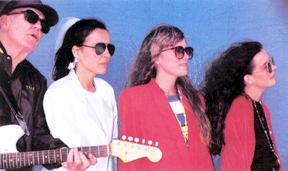 for the past 20 years, they've released about 12 albums all told. They have appeared on many TV shows and worked with other artists including The Indigo Girls, Kathy Mattea, Don Was, Philip Glass and, most recently Tracey Ullman. There is a cartoon of the Roches on the TV show Tiny Toons where they have been turned into animated cockroaches doing a gig under the floorboards in someone's kitchen.
In addition to her work with her family, Terre sang the role of Squeaky Fromme in an opera about Charles Manson, and can be heard on Robert Fripp's classic album "Exposure" singing the title cut as well as several others.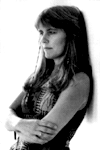 Answering the often-asked query as to how that particular performance was elicited from the usually sweet-sounding soprano, she says simply "There was an entire bottle of cognac involved." In the mid-1990's she went back to school, received her B.A. in music from Empire State College in New York and teaches guitar at The New School as well as privately.
In 1997, after The Roches decided to disband the trio, Terre formed another band, "Terre And Her Moodswings," which consisted of herself and 15 swinging musicians including Garry Dial, Richard DeRosa, Andrea Pejrolo, Marc Mommaas, Dave Roche, and Joe Deninzon. For the past ten years she has been collaborating with Garry Dial on a project of national anthems from various countries around the world. They have done all of the arrangements themselves and feature various artists from the different countries on each one. This project is scheduled to be completed and made available to the public in 2004.