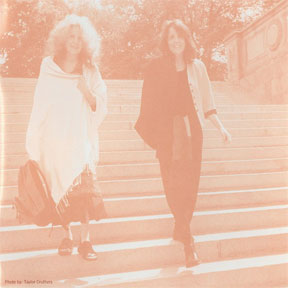 Liner Notes:
Produced by Stewart Lerman & Suzzy Roche
Recorded & Mixed by Steward Lerman @ The Shinebox in New York City
Mastered by Dom Maita @ Airshow
Music Made By:
Suzzy - Guitars, piano, singing
Maggie - Guitars, piano, singing
Stewart - Bas, B3, guitars, drums, percussion, teeth, tree
Additional Musicians:
David Amram - French Horn
Paulo Braga - Drums
Marlon Cherry - Percussion
Dorothy Lawson - Cello
David Mansfield - Dobro, nylon string, acoustic and electric guitar, violin, mandolin
Paul Ossola - Acoustic bass
Paul Socolow - Electric bass
Full Color Photography by: Janie Geiser
Design: 3+Co. (www.threeandco.com)
All songs published by Untodust Ditties except: I Don't Have You / Cold Weather Music, One Season / Deshufflin, Broken Places and La Vie C'est La Vie / Nabithius, A Day in the Life of a Tree / Brother Publishing Co.
If you want to get in touch with Maggie or Suzzy: slupper305@aol.com or judesfan@warwick.net
Thank you! Stewart Lerman, Bob Feldman & everybody at Red House, New York Foundation for the Arts, Janie Geiser, Dick Connette, Bill Bowers, Merideth, Amy & Jen Harte of 3+Co., all the musicians who played with us, the contributing writers, and to the listeners who can still hear what we're doing!